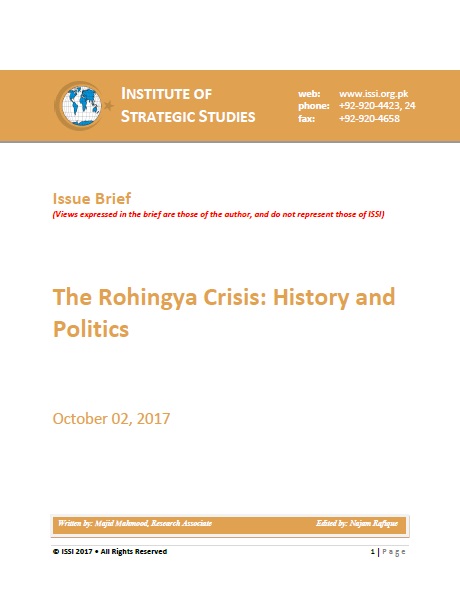 The recent events in Myanmar's south western province of Rakhine have drawn considerable global and local attention. Dubbed as "clearance operations" by the Myanmar's government, nearly 436,000 Rohingya Muslims have fled from their homes in northern Rakhine regions into neighboring Bangladesh, while approximately 400 people have been killed since August 24, 2017.[1]
The Myanmar's government claims that the ongoing operations in the northern Rakhine region is being carried out in response to terrorist attacks conducted by the Arakan Rohingya Salvation Army (ARSA) that killed 11 members of the security forces.[2]
The issue and origins of the latest violence directed against ethnic Muslim in the Rakhine province (previously named as Muslim Arakah) cannot be seen in the narrow context of terrorism as the history of dispute is old and the current political context unique enough to warrant a deeper inspection.
Myanmar is composed of 135 officially recognized ethnicities in country's eight different regions with Bamar being the largest and politically dominant of them belonging from the country's heartland.[3] Rohingya Muslims from Rakhine state, with an estimated population of around 1.1 million, are not officially recognized by Myanmar since the controversial 1982 citizenship law.[4]