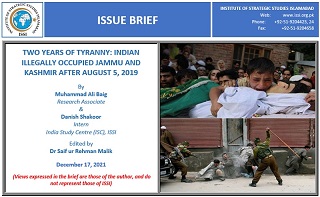 On August 5, 2019, the Republic of India under the right-wing Hindutva-driven premiership of Prime Minister Narendra Modi revoked the Articles 370 and 35A of the Indian Constitution and treacherously abrogated the special status of Indian Illegally Occupied Jammu and Kashmir (IIOJK). The latter was a clear violation of United Nations resolutions and the International Law. The Articles 370 and 35A were guaranteed by the Indian Prime Minister Jawaharlal Nehru in January 1950 and by the virtue of such, IIOJK was allocated four seats in the Lok Sabha. Hence, IIOJK was given pseudo internal autonomy and the Centre was to deal only with matters pertaining to "defence, external affairs, and communications." The Article 370 (originally 306-A), though was the brainchild of Nehru; nonetheless, it was drafted by Gopalaswami Ayyengar along with National Conference's Sheikh Abdullah.[1]
The Articles 370 and 35A
The Article 370 was indeed the deceptive instrument enacted by the Indian government which helped gaining illegal control over the IIOJK. It allowed the region to have its own set of laws and decide for itself in all matters except defence, foreign affairs, and communications. More importantly it gave the region a sense of hollow autonomy.[2] The Article 35A was also attributed as "permanent residents' law." It allowed the local legislature to identify the "permanent residents" and was aimed at protecting the demography of the region. It was to make sure that Kashmir remains exclusively to the Kashmiris including privileges related to employment, scholarship, and private ownership. The law was introduced in 1954 through presidential order and it comes under the premises of article 370.[3]