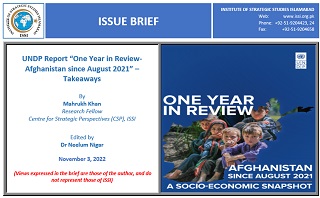 Cascading crisis and a crippled economy are the new realities of Afghanistan. The recently released report by the United Nations Development Programme (UNDP) builds a picture of Afghanistan which is nothing short of grim. The people of the country after going through decades of war and destruction are living unsettled lives in an uncertain time. The report brings into light the already-declining Afghan economy that lost almost US$5 billion after August 2021 drastically reversing what the country had accumulated in 10 years in only 12 months."[1]
While the challenges to the ordinary Afghan are alarming there are some sectors where progress has been made. Conflict-related security incidents and civilian casualties have decreased which has infinitesimally helped in ease of trade and connectivity across the country; along with custom revenue which has steadied at AFN 43 billion.[2]
Fundamental Challenges:
In 2022 the macroeconomic collapse and increase in poverty have become an evil reality. The data on the Afghan economy shows a drastic drop in the overall Gross Domestic Product (GDP) of the country with 95 to 97 percent living below the poverty line. Before the Taliban came to power the economy of Afghanistan however small stood at about $20 billion and since it has lost about $5 billion which accumulates a loss of 10 years worth of assets and wealth in a matter of few months, in addition to the loss of 700,000 jobs with the majority in the education sector held by women.