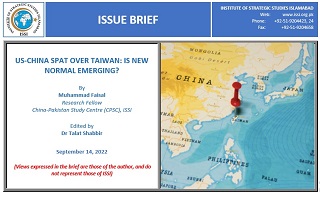 In recent weeks, Taiwan Strait has emerged as the center-ground of escalating US-China great-power competition. The trajectory of recent events indicate that the island is increasingly becoming the most contentious issue in China-US relationship. It indicates that fundamental dynamics underpinning US-China relations from the early 1970s are changing. This could potentially setback US-China relations and turn already fractured ties to conflictual mode. In turn, the potential for military escalation has increased in an already volatile region. The strategic competition between Beijing and Washington, which earlier was confined to political and economic domains, have now turned military.
Pelosi's Visits and Beijing Reacts
On August 2, U.S. House Speaker Nancy Pelosi became the highest-ranking US official in a quarter century to visit Taiwan, a self-ruled island, which China considers a breakaway province. Pelosi led a six-member congressional delegation. During the visit, Pelosi met with President of Taiwan Tsai Ing-wen, and addressed Taiwanese legislative assembly. Pelosi's message was: America stands with Taiwan as "it defends itself and its freedom".[1] Pelosi defined protests from Chinese leaders and also opposition from the Biden administration official and sought to reaffirm the US commitments to the island.