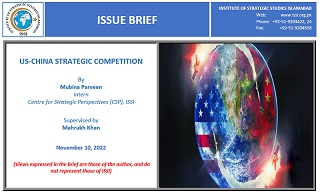 The term Indo-Pacific (IP) was first coined by a German geopolitical scholar Karl Haushofer, who used it in his work 'Indopazifischen Raum' in 1920.[1] The Indo–Pacific competition is primarily between two major powers China and the United States and has been on the rise for some years. The competition continues as both seek to strengthen the strategic as well as economic might within the Indo-Pacific region. During the Trump administration, the IP idea was embraced as the customary building block of the US commitment to the Indo-Pacific region. This included:
Building collective security through a network of regional allies and partners,
Promoting economic prosperity, and,
Encouraging good governance and shared principles.
To meet the required goals US signed multiple agreements with its like-minded partners who share the same goals and strategic objectives in the IP region. Comprehensive and Progressive Agreement for Trans-Pacific Partnership (CPTPP), US-Japan Trade Agreement (USJTA), Indo-Pacific Economic Framework (IPEF), Trans-Pacific Partnership (TPP), US-Australia Free Trade Agreement (FTA) and Trade and Investment Framework Agreement (TIFA), and US-Korea Trade Agreement (USKTA)[2]  are a few amongst them.