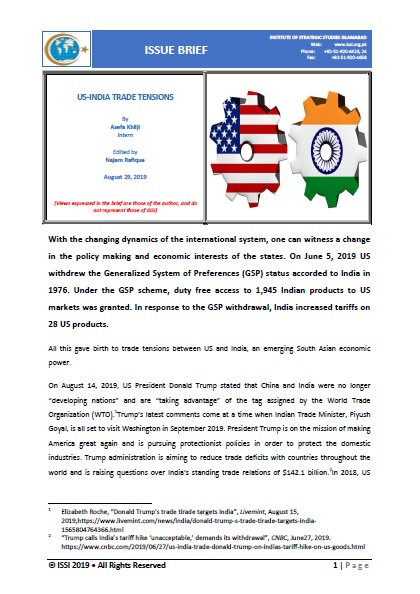 With the changing dynamics of the international system, one can witness a change in the policy making and economic interests of the states. On June 5, 2019 US withdrew the Generalized System of Preferences (GSP) status accorded to India in 1976. Under the GSP scheme, duty free access to 1,945 Indian products to US markets was granted. In response to the GSP withdrawal, India increased tariffs on 28 US products.
All this gave birth to trade tensions between US and India, an emerging South Asian economic power.
On August 14, 2019, US President Donald Trump stated that China and India were no longer "developing nations" and are "taking advantage" of the tag assigned by the World Trade Organization (WTO).[1]Trump's latest comments come at a time when Indian Trade Minister, Piyush Goyal, is all set to visit Washington in September 2019. President Trump is on the mission of making America great again and is pursuing protectionist policies in order to protect the domestic industries. Trump administration is aiming to reduce trade deficits with countries throughout the world and is raising questions over India's standing trade relations of $142.1 billion.[2]In 2018, US exports to India accounted for $58.9 billion, while the imports stood at $83.2 billion.[3]Hence, US had to bear a trade deficit of $24.2 billion with India out of which the goods trade deficit accounted for $21.3 billion and the service trade deficit was of $3 billion.[4]The Trump administration has asked India to soften the price caps on US made medical equipment and removal of certification mandatory on exports of dairy products. Therefore, President Donald J. Trump's America first policy came in contradiction with Prime Minister Narendra Modi's protectionist policies and he asked India to withdraw the tariffs on US goods as they were unacceptable.