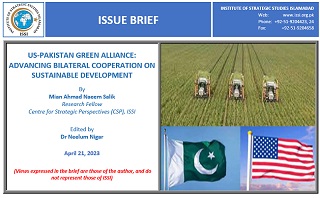 Introduction:
As the United States (US) and Pakistan celebrated 75 years of bilateral relations, a new step in this relationship is the formation of a Green Alliance between the two countries. This dynamic partnership is focused on facing the consequences of the climate crisis together and preparing societies and economies to adapt to a changing future. The US-Pakistan Green Alliance aims to boost bilateral cooperation on sustainable development, clean energy, and climate action. This is poised to not only enhance climate action efforts but also stimulate economic growth, improve the quality of life, and provide a model for other countries to follow. Climate change is not a problem that one country can solve alone but requires collective efforts from a strong coalition of partners. The Green Alliance builds upon the rich US-Pakistan history of environmental collaboration and through this the two countries will support each other to holistically strengthen climate resilience.[1]
US-Pakistan Green Alliance Framework:[2]
The US-Pakistan Green Alliance framework advances cooperation in agriculture, clean energy, and water. The US is committed to support Pakistan as it strengthens climate resilience, pursues energy transformation, and fosters inclusive economic growth.