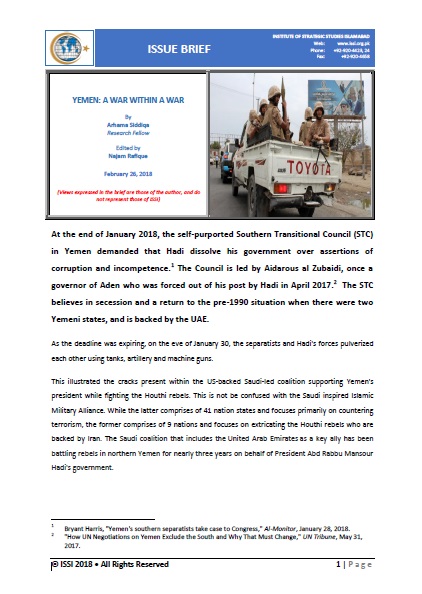 At the end of January 2018, the self-purported Southern Transitional Council (STC) in Yemen demanded that Hadi dissolve his government over assertions of corruption and incompetence.[1] The Council is led by Aidarous al Zubaidi, once a governor of Aden who was forced out of his post by Hadi in April 2017.[2]  The STC believes in secession and a return to the pre-1990 situation when there were two Yemeni states, and is backed by the UAE.
As the deadline was expiring, on the eve of January 30, the separatists and Hadi's forces pulverized each other using tanks, artillery and machine guns.
This illustrated the cracks present within the US-backed Saudi-led coalition supporting Yemen's president while fighting the Houthi rebels. This is not be confused with the Saudi inspired Islamic Military Alliance. While the latter comprises of 41 nation states and focuses primarily on countering terrorism, the former comprises of 9 nations and focuses on extricating the Houthi rebels who are backed by Iran. The Saudi coalition that includes the United Arab Emirates as a key ally has been battling rebels in northern Yemen for nearly three years on behalf of President Abd Rabbu Mansour Hadi's government.