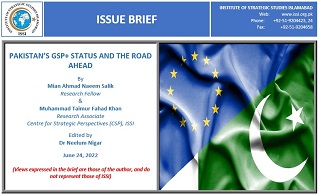 Pakistan's GSP+ status is undergoing a review as the current regime is set to expire in 2023.[1] If successful, Pakistan will avail the benefits of GSP+ under a new framework from 2024-2034.
In March 2020, the EU had extended Pakistan's GSP+ status till 2022. The commission noted that Pakistan had made considerable progress when it came to labour laws and tackling climate change, two important conditions for the continental bloc to grant or extend a GSP+ status. Pakistan's GSP+ status was put under review after strong demand of the European Parliament (EP) which passed two resolutions on the issue of non-compliance.
However, the European Commission (EC) found no grounds to exclude Pakistan from the GSP arrangement and its GSP+ status was extended till December 2023.[2]