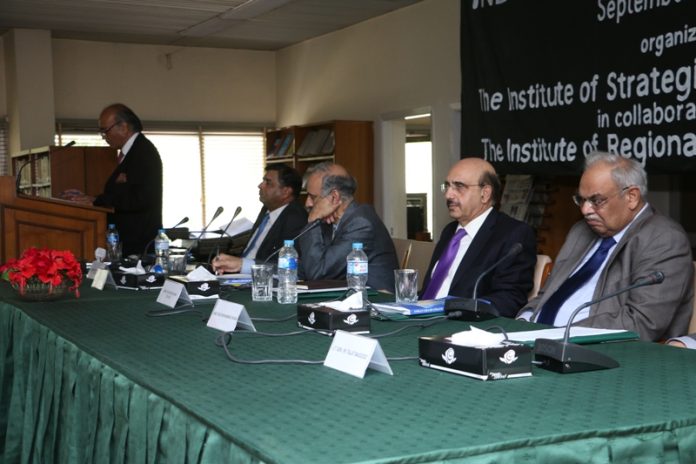 The Institute of Strategic Studies, Islamabad (ISSI), in collaboration with the Institute of Regional Studies, Islamabad (IRS) organised a Public Talk and book launch of "Indian Grand Strategy – Machiavellian or Kautilyan", an IRS publication today.
Ambassador Masood Khan, Director General, ISSI, in his welcome remarks said that the event was unique as it addresses popular beliefs about India that is determined to isolate Pakistan from the international community, and that India has not fully accepted Pakistan's existence. He said the book tries to test these beliefs and attempts to understand them at different level. All Pakistani leaders have tried to explore good neighbourly ties with India. However, they have been unsuccessful. Pakistan expects India to recognise it as a significant weight in the region, cease interference in Pakistan's internal matters, and engage in a constructive bilateral dialogue on the issue of Kashmir. He said that peace tables should be set up in Delhi or Islamabad, India must come back to the Strategic Restraint Regime, and that strategic parity must be taken seriously along with the resolution of other issues including water, Siachen and Sir Creek. He said that the use of Afghan soil against Pakistan is a great mistake. Also, attempts to drive a wedge between Pakistan and Afghanistan through a Machiavellian or Kautilyan approach will backfire. Speaking about the China Pakistan Economic Corridor, he said that it will benefit Pakistan and would not hurt India. India should not begrudge or block Pakistan's prosperity, he said.
Lt. Gen. Talat Masood said that while India is one of the fastest growing economy, Modi's grand strategy seems to be based on a exclusionary Hindu dominated nationalistic that wants to impose its will on smaller states. It also attempts to assert regional power through sustained economic growth along with the pursuit of a militaristic and aggressive foreign policy.
Former Foreign Secretary, Ambassador Riaz Mohammad Khan, raised a question about the viability of old paradigms in the background of the changing world as well as technological revolution. He said that the book does not presume to offer any definitive prescription as socities have to go through their own experience and tribulations. The purpose is to be part of the debate, in particular, on the intellectual crisis and confusion in public discourse both in Pakistan and India.
Ambassador Arif Ayub, President Institute of Regional Studies (IRS), said that both the countries should adopt a better approach in regard to the Confidence Building Measures, pay attention to civil military balance as described by Paul Kennedy and conduct themselves as responsible nuclear weapon states. The rise of religiously driven extremism in India will deepen strife in the region.
H.E. T.C.A. Raghavan, High Commissioner of India underlined the importance of such exchanges as they add more value to the existing discourse on Indo-Pak ties. H.E. Mr. Raghavan outlined his critique under five broad heads: including methodology based on dissident views; Hindutva is not the guiding principle of India's polity; India does not have hegemonic designs; there are two conflicting narratives on the issue of Jammu and Kashmir; and India's grand strategy is economic development. He said that although it was difficult to define India's grand strategy, it was governed by geo-economics rather than geostrategic aspirations. He said that too much focus was being laid on geostrategic issues and that more emphasis should be laid on geo-economics between the two neighbours.
Ambassador Khalid Mahmood, Chairman BOG, ISSI concluded the talk by commenting on the critiques by H.E. T.C.A. Raghavan. On the issue of Kashmir, he said that the only viable solution was either through bilateral dialogue or third party mediation through the UN, as history has proved that war is not the solution. He said that the media is a double-edged sword as it brings the people together, but should play a responsible role.
Amina K./29092015