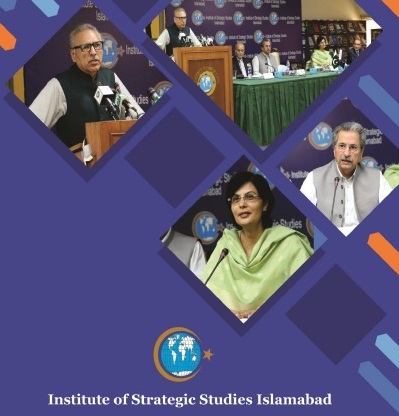 Welcome Remarks
 Ambassador Aizaz Ahmad Chaudhry
Director General, Institute of Strategic Studies Islamabad
Ambassador Aizaz Ahmad Chaudhry, Director General ISSI, welcomed President of Pakistan, Dr. Arif Alvi and the other guests at the Institute. He said that this institution has been serving as a premier think tank since 1973. ISSI functions as an autonomous organization dedicated to research and dialogue on themes of direct relevance to Pakistan, and provides inputs to the Foreign Ministry and other stakeholders.
Ambassador Chaudhry further said that we are living in an age, where perception sometimes becomes more important than reality. Narratives and counter narratives are being formed through academia, media and social media impinge on policy choices as never before. The formation and multiplication of these narratives on the causes important to Pakistan are therefore of critical importance. He pinpointed that it's where this Institute comes in and seeks to play important advocacy role. Although traditionally, the Institute had focused on foreign and security policies of Pakistan, now its ambit is being broadened to shine light on themes of governance and economy as all these issues have become so interconnected in today's world.
He went on to say that one such area of high importance for our nation is poverty alleviation. Poverty and hunger are the worst enemies of humanity. For Pakistan, like many other developing nations, poverty is a real issue, connected directly to the lives of millions of our countrymen and women. Ambassador Chaudhry emphasized that socio-economic uplift of our people is a high priority for this government. He lauded President Alvi's efforts and said that as head of state he is playing a phenomenal role in advancing this national objective.
DG ISSI underlined that many nations are engaged in poverty alleviation, some of them are doing wonders like our northern neighbor China having lifted 700 million of its people out of poverty. He stressed that we have to asses where does Pakistan stand in this undertaking. We only have to look at our status of achieving United Nations' Sustainable Development Goals or UN's Human Development Index to know that our challenge is actually growing. Ambassador Chaudhry pointed out that if one simply looks around, goes around as we all do, to various parts of the world, especially the developed countries, we can easily notice that a nation cannot develop unless it is ready to invest in eliminating poverty and improving human development of its people.