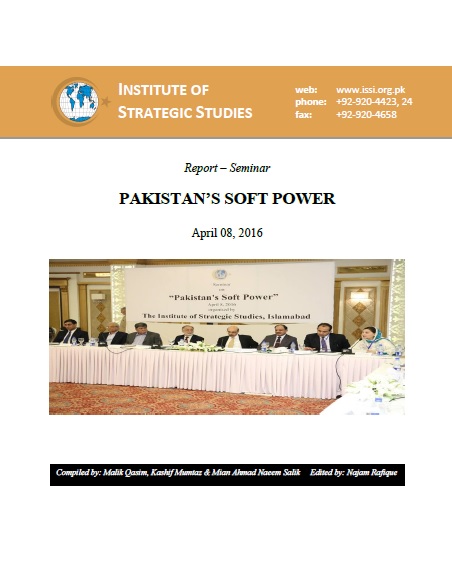 Inaugural Session
Address by the Chief Guest: Mr. Sartaj Aziz, Advisor to the Prime Minister on Foreign Affairs
I am delighted to be here today, at this prestigious forum; sharing my thoughts on a rather crucial topic that is not only of importance to Pakistan but also of importance to the countries which have suffered a lot in the past by the use of, or being affected by coercion.
But before I formally begin, I would like to congratulate the Institute of Strategic Studies Islamabad, for organising this event. I am confident that our discussions here today would pave the way for an improved understanding of the concept of "soft power", and the importance of its implementation for Pakistan.
This is a well-established fact that the term "Power" has been one of the most important notions in the International Relations, since the earliest political writings of eminent scholars like Machiavelli and Thucydides. The concept, however, in my opinion, has not been understood properly. International Political actors have generally understood and used the power in its "hard" form i.e. that arising from military or economic power. The School of Realism, therefore, considers that the only test of "Power" could be "Strength for War". Unfortunately, this concept has proved to be the cause of most devastating conflicts in the history of the world and has taken millions of innocent lives. In fact, I am of the view that this has also given rise to terrorism, insurgencies and other menaces of such kind. Armed groups and individuals have started to resort to the use of force for their illegal demands.