Press Release
Islamabad Conclave-2022
Working Session-II: "75 Years of Independence: Search for Peace and Prosperity in South Asia"
December 7, 2022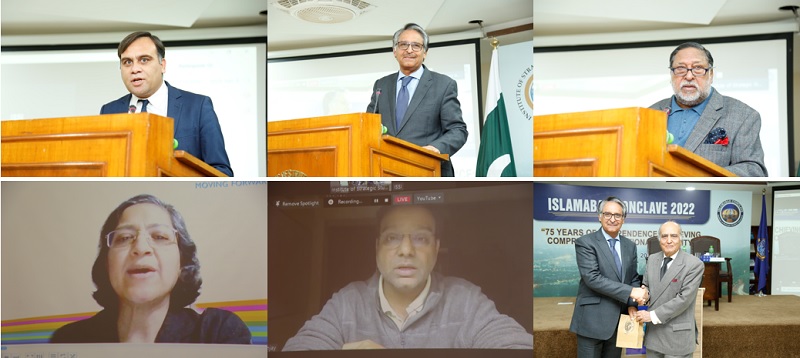 The India Study Centre organized the second working session of the Islamabad Conclave 2022, titled "75 Years of Independence: Search for Peace and Prosperity in South Asia", which was moderated by Dr. Arshad Ali, the Director of the India Study Centre. For this working session, India Study Centre invited a number of experts in the fields of diplomacy, economics, and climate change. The keynote speaker for the session was Amb. Jalil Abbas Jilani, who has served as Pakistan's Ambassador to the United States, the Secretary of the Ministry of Foreign Affairs and as the Director General for South Asia and SAARC. In his remarks, Amb. Jilani stressed upon the need for courageous leadership on both sides and support from political parties to advance the peace process. Furthermore, he stressed upon the need for civil society and the media to draw attention to the positive aspects of the relationship between India and Pakistan.
Justice (Retd.) Ali Nawaz Chowhan, a renowned international legal jurist and the former Chief Justice of Gambia, delivered an address titled, "Resolution of the Kashmir Dispute: Imperative for a Lasting Peace in South Asia". He stressed upon the fact that the remedy for the Kashmir issue was international law, and that Pakistan should rely on peaceful channels to bring awareness to the problems faced by Kashmiris.
Dr. Rupa Chanda, the Director of the Trade, Investment and Innovation Division at the United Nations Economic and Social Commission for Asia and the Pacific, delivered her remarks on the theme of "Prospects of Regional Economic Integration in South Asia". She shed light on the potential for services integration in South Asia as platform for boosting connectivity between states in the region. Furthermore, she argued that there was a great potential for service delivery mechanisms, e-governance platforms, and IT services to be integrated, in order to alleviate poverty and boost development programs in the region. However, challenges such as visa restrictions, lack of political will and the absence of direct transport linkages need to be addressed in order to realize this potential.
Mr. Sanjay Vashisht, the Director of Climate Action Network South Asia stressed upon the pressing need for regional collaboration in order to counter the pernicious impacts of climate change. He argued that this was the most pertinent issue faced by the region and it was necessary to develop climate resilience infrastructure in order to adapt to changing weather patterns, seasonal floods, and droughts. If such steps were not taken, then a worsening climate situation could reverse development gains and exacerbate the level of poverty in the region.