Press Release
ISSI Concludes MoU on Cooperation with
South Africa's Institute for Security Studies (ISS)
November 17, 2023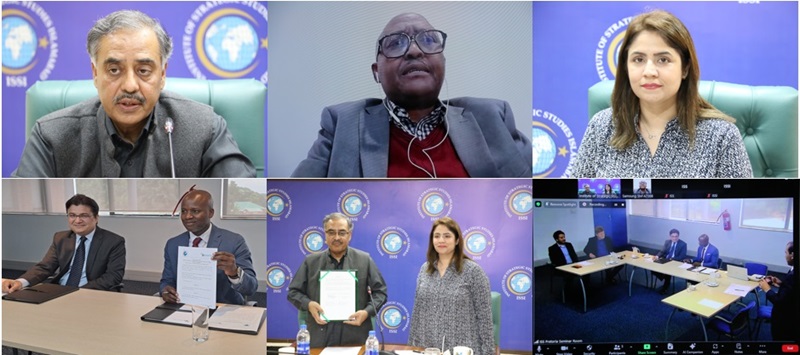 A virtual ceremony took place today to sign an MoU on cooperation between the Institute of Strategic Studies Islamabad (ISSI) and the Institute for Security Studies (ISS), South Africa, which was facilitated by the Centre for Afghanistan, Middle East and Africa (CAMEA). The ISSI was represented by its Director General, Ambassador Sohail Mahmood and Ms Amina Khan, Director, CAMEA.
The ISS was represented by its Executive Director, Dr. Fonteh Akum and Dr. Piers Pigou, Head of Southern African Program at ISS.
The MoU signing ceremony was also attended by H.E. Aftab Hassan Khan, High Commissioner of Pakistan to South Africa; and H.E. Mthuthuzeli Madikiza, High Commissioner of South Africa to Pakistan.
Director CAMEA Amina Khan, while giving introductory remarks, stated that the signing of the MoU was a reflection of warmth and desire on both sides to expand the scope of bilateral interaction. She hoped that the MoU would help further the relationship between Pakistan and South Africa, through institutional linkages for collaborative research and dialogue on issues of mutual interest.
Welcoming the conclusion of the MoU, DG ISSI Ambassador Sohail Mahmood highlighted that ISSI highly values its relationship with the Institute for Security Studies (ISS) which had long focused on vital issues such as human security. He added that the concept of comprehensive security with human security at its core had been embedded in Pakistan's national security policy. Amb. Sohail Mahmood emphasized that this MoU would not only strengthen institutional linkages between the two think-tanks but also contribute to enhancing bilateral cooperation between the two countries. He recalled that ISSI had had the proud privilege and honour of hosting iconic South African statesmen Nelson Mandela during one of his visits to Pakistan.
Ambassador Sohail Mahmood also highlighted the significance of South Africa for Pakistan and acknowledged the steady progress being made in the bilateral relationship. He mentioned that high-level exchanges and institutional linkages represented a positive step forward. ISSI looked forward to fruitful collaboration and aimed to foster a robust relationship with counterparts in the African continent as part of Pakistan's 'Engage Africa' Policy, as vast opportunities continued to emerge in various domains.
Ambassador Sohail Mahmood concluded by saying that the MoU will play a pivotal role in enhancing ties and contributing to the growing partnership between Pakistan and the African continent. He also thanked the two High Commissioners for their valuable support to the realization of this initiative.
The ISS's Executive Director, Dr. Fonteh Akum, emphasized the crucial importance of the friendly ties between Pakistan and South Africa, considering them as vital countries in their respective regions. He highlighted the longstanding history of solidarity between the two nations. Stressing the significance of such linkages, Dr. Akum mentioned that this relationship will enhance engagement between Pakistan and Africa at a higher level, fostering policy debates within the circle. Regarding the MoU, he said that it will play a key role in comprehending the various areas of importance for both Pakistan and Africa as a whole.
High Commissioner of Pakistan to South Africa, H.E. Aftab Hassan Khan, noted that diplomatic ties between Pakistan and South Africa were established in 1994. Highlighting the historical significance, he mentioned that Nelson Mandela visited Pakistan in 1992, emphasizing the importance of the relationship between the two nations. He pointed out that both Pakistan and South Africa are pivotal countries with untapped potential in various domains that requires exploration.
Ambassador Khan also identified the need for more interaction between leaders and institutions. Emphasizing the significance of think-tank linkage, he stated that it would be beneficial for both sides, fostering collaboration and mutual learning. He affirmed that this marks the beginning of a meaningful connection, paving the way for regular interactions in the future.
High Commissioner of South Africa to Pakistan, H.E. Mthuthuzeli Madikiza, remarked that the MoU is a significant step forward. He emphasized that the MoU will facilitate the establishment of diverse linkages and cooperation between the two institutions. This, in turn, will enable both sides to achieve improved interaction and fruitful cooperation through the exchange of knowledge, people-to-people exchanges, business-to-business collaborations, and government-to-government consultations. High Commissioner Madikiza expressed optimism about the positive impact of this MoU, highlighting its role in fostering greater understanding and collaboration between South Africa and Pakistan.