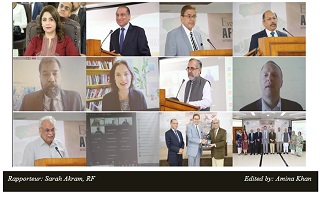 The Centre for Afghanistan, Middle East and Africa (CAMEA) at the Institute of Strategic Studies (ISSI) organized the launch of its second edited book, titled, "Evolving Situation in Afghanistan: International and Regional Perspectives" on August 10, 2022.
Speakers on the occasion included, Ambassador Mohammad Sadiq, Special Assistant to the Prime Minister (SAPM), and Pakistan's Special Representative for Afghanistan, who was the Chief Guest at the occasion and the Keynote address was given by Ambassador Mansoor Ahmed Khan, Pakistan's Ambassador to Afghanistan. Other speakers included Ms. Amina Khan, Director CAMEA, Ambassador Aizaz Ahmad Chaudhry, Director General ISSI, Ambassador Riaz Mohammad Khan, Former Foreign Secretary, Ambassador Jawed Ludin, President and Co-Founder, Heart of Asia Society, Dr. Niels Hegeswisch, Country Director Friedrich Ebert Stiftung, Pakistan, Ambassador Abrar Hussain, Pakistan's Former Ambassador to Afghanistan, and Ms. Elizabeth Threlkeld, Senior Fellow and Deputy Director of the South Asia Programme at the Stimson Centre, USA.
Ms. Amina Khan, while giving her introductory remarks about the book, stated that Afghanistan is being viewed as a regional issue, particularly in terms of the ongoing crises in different parts of the world; this is a very myopic view of the situation and that history has always shown developments in Afghanistan to have global ramifications. She went on to say that Afghanistan cannot be abandoned or ignored; rather, it is a global issue that warrants a collective response. While shedding light on the situation in Afghanistan, she said that while the Taliban are certainly not ideal, it must be asked whether there are any viable alternatives at this stage. Perhaps a clearer question is whether the international community desires the Taliban to fail or succeed, the answer, it appears at this point, will mean the failure or success of Afghanistan. She further explained that on the Taliban's part, now that they are in power, it is imperative that they deliver on all accounts, and ensure that they honour their pledges of reform pertaining to governance, basic yet fundamental rights, a representative political framework which is not only limited to an inclusive government but rather a diverse and robust opposition and of course honoring CT assurances. It is imperative for the Taliban to realize that if they fail to do so it will become increasingly difficult for the international community and more so from regional countries to engage with them let alone move towards recognition. She also said that there was a consensus amongst the authors that it is essential to recognize that mistakes of the past are not repeated, since abandoning or ignoring Afghanistan will not bode well for any stakeholders. She concluded by saying that it is a time to remain engaged with Afghanistan– where the onus is on all sides to deliver.