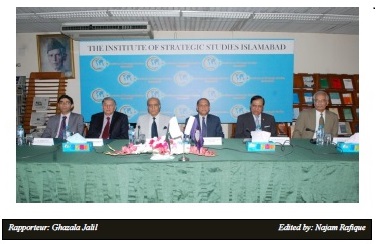 The Institute of Strategic Studies, Islamabad (ISSI) hosted launch of the book titled "Brokering Peace in Nuclear Environments: US Crisis Management in South Asia," authored by Dr. Moeed Yusuf on September 5, 2018. Dr. Yusuf is Associate Vice President, Asia Center, US Institute of Peace (USIP), Washington DC. Distinguished commentators at the book launch included: Gen. (Retd) Ehsan ul Haq; Former Chairman, Joint Chief of Staff Committee; Ambassador (Retd) Riaz Khokhar, former Foreign Secretary; and Dr. Riffat Hussain, Professor, Development Studies, S3H, National University of Science and Technology (NUST).
Welcome Remarks by DG ISSI
Welcoming the author, commentators and the guests, Director General ISSI, Ambassador (Retd) Aizaz Ahmad Chaudhry posed three key questions – Why has peace eluded South Asia? Why has brokering not worked? What does the future look like? While answering the first question, he said that looked at from a global context, South Asia has been caught up in global big power contestation. From the peak of the Cold War, or the Soviet invasion of Afghanistan in 1979 to the global war on terrorism in the 2000s, India and Pakistan were on the opposite ends of the big powers contest. Thus, there was little that the big powers could do to secure peace in South Asia. At the regional level, he highlighted that India seeks peace but on its own terms, and it thinks that given its size and power it can dictate its terms. He further elaborated that India refuses to engage in talks with Pakistan until action is taken against anti-India militants. He noted that ironically, this serves the objectives of the very militants that India claims to be fighting. He stressed that the real need is for India and Pakistan to cooperate in fighting terrorism. He said that unfortunately, Pakistan has not been successful in persuading India to see the logic of a cooperative approach to secure peace. At the bilateral level, he said that negotiations only succeed if both sides are prepared to give some space in favor of common ground. However, political will to that magnitude has been lacking.