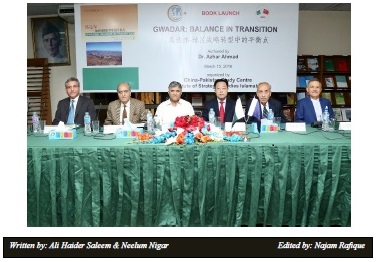 The China-Pakistan Study Centre (CPSC) at Institute of Strategic Studies Islamabad (ISSI) launched a book titled "Gwadar: Balance in Transition" authored by Dr. Azhar Ahmad, Head of Department, Humanities and Social Sciences, Bahria University, on March 13, 2018. Former Chief of Naval Staff, Admiral Asif Sandila, was the Chief Guest at the occasion.
The book is an in-depth study of the multi-dimensional aspects of Gwadar and contextualizes the evolving dynamics of the maritime affairs in the region. The distinguished commentators at the book launch included: Rear Admiral Farrokh Ahmed HI (M), Deputy Chief of Naval Staff (Projects), Naval Headquarters, Islamabad; Dr. Pervaiz Iqbal Cheema, Dean, Faculty of Contemporary Studies, National Defense University (NDU), Islamabad; Mr. Zhao Lijian, Deputy Chief of Mission at the Embassy of the People's Republic of China in Islamabad;
Welcoming the guests, the Chairman ISSI, Ambassador Khalid Mahmood lauded the scholarly efforts made by Dr. Azhar Ahmad in contributing to the existing literature on Pakistan's maritime sector, especially the neglected importance of Gwadar.