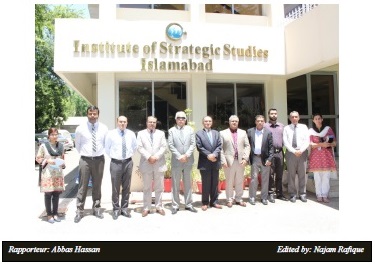 An 8-member delegation from the National Institute of Maritime Affairs (NIMA) led by Vice Admiral (Retd) Khawar Ali Shah, Director General NIMA paid a courtesy call to the Institute of Strategic Studies Islamabad (ISSI) on May 20, 2019. Ambassador Aizaz Ahmad Chaudhry, Director General ISSI welcomed the delegation.
The delegation was briefed about ISSI by Mahrukh Khan, Research Fellow.
Introducing NIMA, Vice Admiral (Retd) Khawar Ali Shah stated that the Institute is a policy oriented think tank working on blue economy and maritime tourism. It aims to formulate strategies that are not divorced from realities. He said that there is a lack of framework that is preventing entrepreneurs to step into the field of maritime tourism and sports activities. Pakistan, he said needs a maritime tourism policy. He suggested that NIMA and ISSI should join hands and develop research linkages that cater to the needs of both institutes.