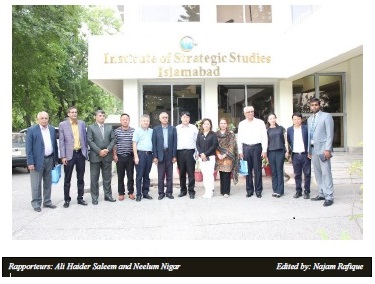 The Institute of Strategic Studies Islamabad (ISSI) held an In-House Meeting with a Chinese delegation for Pakistan-China Agriculture Cooperation Dialogue. The Chinese side was represented by agricultural stakeholders including Mr. Guanghui Chen; Ms. Zihan Mo; Mr. Guoxing Fo; Mr. Guihe Wang; Ms. Wenqing Xu and Mr. Zihai Wang. They were joined by Dr Iqrar Ahmad Khan, former VC Faisalabad Agriculture University; Dr. Farida Faisal, University of Arid Agriculture Rawalpindi; Dr Abid Suleri, Executive Director SDPI; Mr. Shakeel Ramay, Executive Director, Zalmi Foundation; Mr. Asif Sharif, CEO Pedevar Group and Air Marshal Rashid Kaleem.
Opening the proceedings, Director China-Pakistan Study Centre (CPSC) at ISSI, Dr. Talat Shabbir welcomed the Chinese delegation and introduced the Pakistani participants.
Ms. Uroosa Khan, Associate Editor at CPSC gave a brief introduction of ISSI to the delegation about the activities and research work carried out at the Institute.
Read More