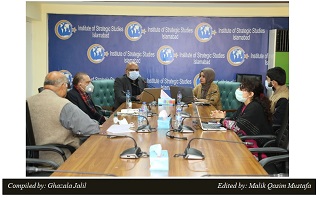 The Arms Control & Disarmament Centre (ACDC) at the Institute of Strategic Studies Islamabad (ISSI) held an in-house discussion meeting on "US-India Strategic Tech Alliance: Options for Pakistan" on Tuesday, January 12, 2021. Ms. Aamna Rafiq, Research Associate ACDC-ISSI, presented the topic followed by an interactive discussion. The in-house discussion meeting was attended by the members of the ISSI research faculty and the ACDC advisory board.
Malik Qasim Mustafa, Director ACDC, in his welcome remarks said that the core objective of this US initiative "US-India Strategic Tech-Alliance (UISTA)" would be to centre its Indo-Pacific Strategy vis-à-vis emerging technologies for defence and security purposes around its relations with India.
Ms. Aamna Rafiq said that the United States' National Security Commission on Artificial Intelligence (NSCAI) in its recent report proposed the creation of the UISTA. She said that the UISTA will be composed of regular working groups and high-level dialogues between the two states in seven key areas: promotion of technological innovation; expert human resource exchanges; strengthen joint research and development (R&D); accelerate security and defence cooperation; improve data sharing ecosystem; counteroffensive information operations; technological standardisation and norm building for AI; and any other technical aspect of a broader strategic landscape. This tech alliance would be one of the key components of a broader US agenda to keep India "as a key focal point" for the Quadrilateral Security Dialogue.