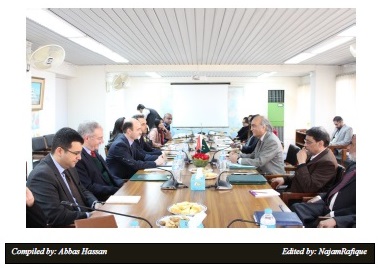 The Institute of Strategic Studies Islamabad (ISSI) hosted a 3-member Turkish Delegation on November 27, 2017. The members of the Turkish delegation included Dr. Mesut Özcan, Acting Chairman, Centre for Strategic Research (CSR), Ankara and Mr. Ufuk Ulutas, Columnist and Researcher. The delegation was accompanied by H.E. Sadik Babur Girgin, Ambassador of the Republic of Turkey to Pakistan.
Before formal discussions, Ambassador Khalid Mahmood, Chairman ISSI and Dr. Mesut Özcan, Acting Chairman, Centre for Strategic Research (CSR), Ankara signed a Memorandum of Understanding (MoU) for mutual cooperation between the two institutes.
Following the signature, Chairman ISSI, Ambassador Khalid Mahmood welcomed the guests and emphasized the close cultural links and Islamic identity that was the basis of deep-rooted ties between Pakistan and Turkey. He also explained how Turkey, after China, is the only country in the world which is adored by the Pakistanis. Ambassador Mahmood said that not just the two countries, but the people of the two countries also shared close and friendly relationship with each other. This relationship has witnessed an upwards trajectory and our bilateral ties have never been affected. He said that we are grateful to Turkey because it has stood by Pakistan in our hour of need. If you ask any average Pakistani, they will only have warm sentiments about Turkey. He stated that the two countries have been collaborating with each other in different international settings like the Baghdad Pact which became CENTO, and the Regional Cooperation for Development (RCD) which later became the Economic Cooperation Organization (ECO). However, he said that the trade volume is not matching with this warm relationship. Today, he pointed out, there is a change as there is a greater involvement of Turkey in Pakistani economy. Now CPEC is also providing more opportunities to the Turkish investors who can look into the projects and subsequently join them.