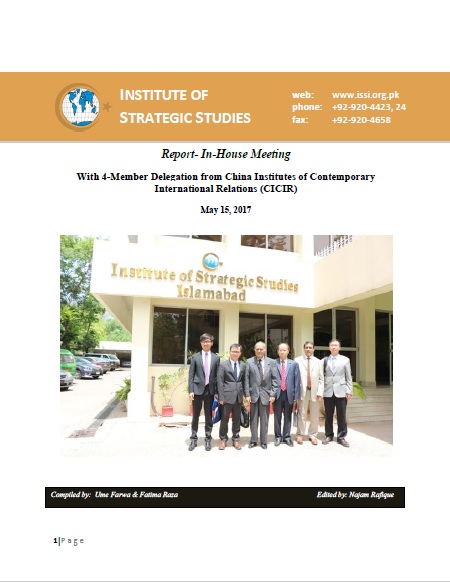 On May 15, 2017, the Institute of Strategic Studies Islamabad (ISSI) hosted a 4-member delegation from China Institutes of Contemporary International Relations (CICIR). The delegation was led by Mr. Fu Xiaoqiang, Director CICIR Institute of Security and Arms Control Studies and included Mr. Chen Wenxin, Vice Director CICIR; Mr. Wang Shida, Assistant Director, CICIR; and Mr. Yan Shuai.
Ambassador Khalid Mahmood, Chairman ISSI, welcomed the delegation and outlined the agenda of the discussion: Views on US South Asia policy; Developments on One Belt One Road (OBOR) and China-Pakistan Economic Corridor (CPEC); and regional issues of common concern.
Mr. Fu Xiaqing thanked the Institute for hosting the delegation and introduced his colleagues. He praised Pakistan's efforts in achieving concrete outcomes in terms of Early Harvest Projects under CPEC. He said that the overall picture was bright and security situation has improved. With the launch of the CPEC project, Pak-China friendship has grown even stronger, but issues of future security remained of common concern for the two countries. India boycotted the Belt and Road Summit held in Beijing in May 2017, which shows its stubbornness. Nevertheless, India's position in the Belt and Road Initiative (BRI) is of great strategic importance. It is a part of the Bangladesh-China-India-Myanmar (BCIM) Corridor under BRI. Even in the Eurasian Land Bridge, it occupies a central position, and thus, stands to benefit from this project.  However, India has been confronting China in the Indian Ocean, which is shaping the regional security framework.