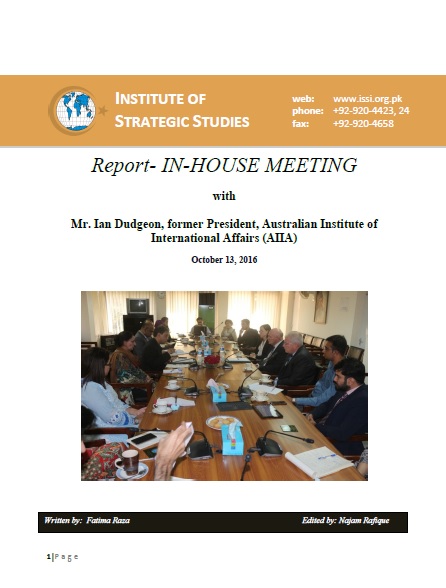 A three-member Australian Delegation visited the Institute of Strategic Studies (ISSI) on October 13, 2016. Members of the delegation included Mr. Ian Dudgeon, former president of the Australian Institute of International Affairs (AIIA), Col. David Burke, Defence Advisor, Australian High Commission and Ms. Emma Leahey, First Secretary, Australian High Commission.
The agenda of the meeting was "The internal security threat to Pakistan: TTP, ISIS, Al-Qaeda, Baluchistan".
Acting Director General and Director Research, Najam Rafique welcomed the. He emphasised that in the global context of fighting terrorism, Pakistan has been attempting to eradicate this relentless menace for many years now. Pakistan, along with the entire region, faces internal threats from non-state actors such as TTP, ISIS and Al-Qaeda. More than ever, non-state actors are active in the region where they have been attempting to enforce their ideology, mostly as proxies, on behalf of foreign elements. The glaring example of which is evident in the anti-state activities being carried out in Baluchistan instigated by India. The Director also highlighted the issue of Afghan Taliban and how their cross border retreats result in disrupting peace in both Afghanistan and Pakistan. Enlightening the delegates on Pakistan's efforts to combat terrorism, the Director emphasised on the National Action Plan (NAP) introduced by the government of Pakistan and the steps taken by the government in the implementation of the Plan. He said that while the plan has made considerable difference in securing the country against terrorism, there is certainly room for further refinement and improvement.