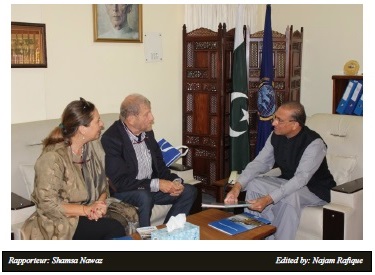 Institute of Strategic Studies, Islamabad, held an informal In-house Meeting with Prof. Dr. Michael Jansen from German University of Technology, Muscat, on March 22, 2019. The meeting was chaired by the Director General Ambassador Aizaz Chaudhry.
Welcoming the guest, Ambassador Chaudhry lauded the achievements of Prof. Jansen who was visiting Pakistan to receive his second award on March 23, 2019, from the government of Pakistan for his valuable research on the cultural and architectural sites in Pakistan. Welcome remarks by Ambassador Chaudhry were followed by a short introduction of Institute of Strategic Studies Islamabad by Ms. Mahrukh Khan.
With a background of field studies on Harappa culture in India and Pakistan, Dr. Jansen holds deep interest in Indus culture (Mohenjo-daro), colonial architecture in South Asia, archaeology and architecture in Southeast Arabia (United Arab Emirates, Oman Sultanate) and Central Asia (Kazakhstan, Kyrgyzstan), early modern cities and Carolingian architecture. He suggested that since civilizations have the most cohesive feature to promote the core needs of humanity, all efforts must be made to share such sites by piping tourism. Pakistan, being at the heart of the third biggest Indus Valley Civilization must actively participate in the UNESCO campaign of "Save Mohenjo-daro Campaign" started since 1984. Managing the culture and civilization sites simultaneously through national heritage strategy would help Pakistan to reinvigorate its soft power perception which has been badly afflicted by the geo-political manipulations.