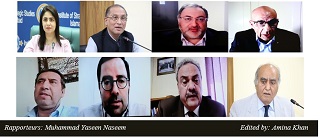 The Centre for Afghanistan, Middle East & Africa (CAMEA) at the Institute of Strategic Studies Islamabad (ISSI) had a Panel Discussion on 'Conversations on the Afghan Peace Process: Iran's Role in Afghanistan' which is the third in a series of conversations CAMEA has had on Afghanistan – under its Conversations on the Afghan Peace Process series.
The distinguished speakers included: Dr. Saeed Ghaderi, Researcher at Institute for Policy and International Studies, Iran. Prof. Shahram Akbarzadeh, Deputy Director (International) of the Alfred Deakin Institute for Citizenship and Globalisation, Australia, Prof. Amin Saikal, Adjunct Professor of Social Sciences at the University of Western Australia, Mr. Mohammad Hashim Pashtun, Adviser for Research & Policy to Kabul Institute for Peace, Dr. Mohsen Shariatinia, Assistant Professor of International Relations, Shahid Beheshti University, Iran and Ambassador Asif Ali Khan Durrani, Former Ambassador of Pakistan to Iran. Ambassador Aizaz Ahmad Chaudhry, Director General ISSI, and Ambassador Khalid Mahmood, Chairman BOG, ISSI, also took part in the discussion.
During her opening remarks, Ms. Amina Khan, Director CAMEA said that the situation in Afghanistan took a drastic and dramatic turn when the Taliban took over, declaring the war in Afghanistan over. Despite assurances, President Ashraf Ghani made an unceremonious exit, leaving the Afghan masses angered, confused and most importantly abandoned. With the US exit and in the absence of a negotiated settlement, a military takeover by the Taliban was expected, the manner and speed at which the group has taken over was certainly not anticipated, nor was the relatively smooth manner in which transition has taken place. While there has been talk of an inclusive political set-up, little is known about its mandate and structure. Until then, Afghanistan will continue to be a major issue of concern for the international community but more so for regional countries. Perplexed by instability in Afghanistan, regional actors like Iran, have come to the forefront to play a more proactive and prominent role in Afghanistan. Considering the repercussions Iran has faced, Tehran shares a consolidated view with its neighbours over Afghanistan, entailing regional ownership, recognition of an inclusive political settlement, and recognition of Taliban as a major component of a Future political settlement as well as curbing transnational terrorist groups particularly like the ISKP.