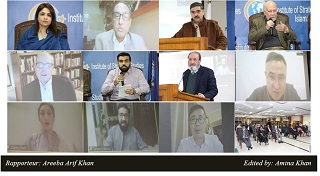 The Centre for Afghanistan, Middle East & Africa (CAMEA) at the Institute of Strategic Studies Islamabad (ISSI) held a Public Talk to conclude the series of conversations on "The Evolving Situation in Afghanistan" which was initiated in June 2021. The series included perspectives from Pakistan, Qatar, Middle East, US, Europe, China, Uzbekistan, Russia, Iran and Turkey.
Senator Anwaar-ul-Haq Kakar was Chief Guest at the occasion, Ambassador Ayaz Wazir was the Keynote speaker and other distinguished speakers included: Ambassador Aziz Ahmad Khan, former Ambassador of Pakistan to Afghanistan, Dr. Murat Aslan, SETA Security Researcher and Faculty Member of Hasan Kalyoncu University (Turkey), Dr. Marvin Weinbaum, Director, Afghanistan and Pakistan Studies, Middle East Institute, Mr. Hashim Pashtun, Advisor for Research Analysis to the Kabul Institute for Peace and Ambassador Khalid Mahmood Chairman BOG, ISSI. Speakers from the various conversation series also took part both physically and virtually.
During her opening remarks, Ms Amina Khan, Director CAMEA stated that CAMEA at ISSI has been holding a series of conversations on the evolving situation in Afghanistan, since June 2021, where the evolving situation in Afghanistan along with the role of important stakeholders has been discussed at length. The series included perspectives from Pakistan, US, China, Russia, Iran, Qatar, Iran, Turkey, Uzbekistan, Middle East and Europe. While discussing the key takeaways from the series, she said that consensus for deeper and meaningful engagement with the Taliban is necessary, which does not necessarily mean recognition but is pertinent, to prevent the imminent humanitarian crises.