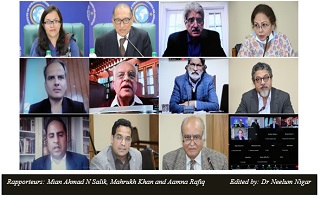 The Centre for Strategic Perspectives (CSP), Institute of Strategic Studies Islamabad (ISSI) organised a Panel Discussion on "Economic Security and Geo-Economics: Challenges and Opportunities for Pakistan," on March 9, 2022. The keynote speaker was Dr. Salman Shah, Former Finance Minister of Pakistan. Other panellists at the discussion included: Dr. Aisha Ghaus Pasha, Former Finance Minister, Government of Punjab; Dr. Sajid Amin, Research Fellow/ Founding Head Policy Solutions Lab, SDPI; Dr. Akmal Hussain, Distinguished Professor, Department of Economics, BNU, Lahore; Dr. Safdar Sohail, Dean, National Institute of Public Policy (NIPP), Lahore; Dr. Liaqat Shah, Executive Director, Centre of Excellence for CPEC; Dr. Usman Chohan, Director Economic Affairs and National Development, CASS; and Mr. Amer Zafar Durrani, President, Reenergia. The discussion was moderated by Dr. Neelum Nigar, Director CSP at ISSI.
Introductory Session
Introductory Remarks by Dr. Neelum Nigar, Director CSP, ISSI
In her introductory remarks Dr. Nigar said that today's discussion is on a very important topic. The government has recently launched a policy document the National Security Policy (NSP) 2020-26, which takes a comprehensive approach to security by considering all pillars of national security. This document puts geoeconomics at the epicentre of Pakistan's national security with a focus on economic security and human security to achieve the overall security. This policy document puts focus on the structural issues which are important to address to achieve economic stability in the country. The policymakers in Islamabad have realised that to make maximum benefit from geoeconomics it must take advantage from the relationship it has cultivated with other nations through its diplomatic history and even further expand them.
Welcome Remarks by Ambassador Aizaz Ahmad Chaudhry, DG, ISSI
Ambassador Chaudhry welcomed the panellists and said that the recently launched NSP document is a step in the right direction as it is good to have a document of such a nature which spells out the larger policy direction of Pakistan. It is also important to note that in the tripod of national security comprising traditional, economic, and human security, economic security has been given the primacy. The nation runs on the treasury that it has, and it is the right approach to focus on economic security. Currently in the larger worldwide context multilateralism, interdependence and globalization seem to be receding into the background and unilateralism and interventions are coming to the fore. It is a matter of great anxiety and concern for everyone that the world might be headed to different camps or coalitions. It is an evolving situation and a matter of concern for countries like Pakistan and other developing economies. The Government in Pakistan keeping in mind the situation has announced that it wants to maintain good mutually beneficial relationship with all major powers as well as the neighbours, but it needs to address its economic security challenges.