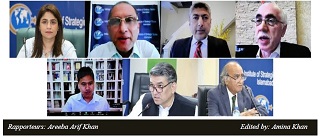 The Centre for Afghanistan, Middle East & Africa (CAMEA) at the Institute of Strategic Studies Islamabad (ISSI) held a Panel Discussion on Pakistan-China-Afghanistan: Prospects of Trilateral Cooperation for Regional Stability'. The panel featured former ambassadors, academics and experts on the field, namely, Ambassador Masood Khalid, former Pakistani Ambassador to China, Ambassador Omar Samad, Nonresident Senior Fellow Atlantic Council and Prof. Lin Minwang, Deputy Director of the Center for South Asian Studies and Assistant to the Dean of the Institute of International Studies at Fudan University, China.
Ambassador Aizaz Ahmad Chaudhry, Director General, ISSI, Ambassador Khalid Mahmood, Chairman ISSI and Dr Talat Shabbir, Director China-Pakistan Study Center (CPSC) at ISSI also took part in the discussion.
Ms. Amina Khan, Director CAMEA, pointed to a shift in China's role in Afghanistan. Previously, China, while supportive of peace and stability in Afghanistan, for the most part had deliberately kept away from the security aspect, and instead had focused on playing a more proactive and constructive role in terms of economic and political investment. However, now, China was taking up a more proactive role in the resolution of the Afghan conflict, by providing necessary facilitation between the Afghan government and the Taliban in realizing reconciliation. She noted that China was, alongside, also helping Islamabad and Kabul improve ties, through various means for example, the establishment of the China-Afghanistan-Pakistan trilateral mechanism, which is dedicated to trilateral cooperation and cooperation to support and facilitate the Afghan peace process, enhance regional connectivity and undertake projects for regional development.