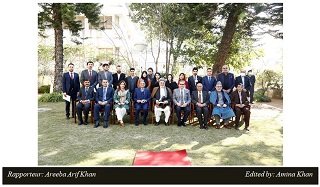 The Institute of Strategic Studies, Islamabad (ISSI) hosted a Public Talk by Ustad Karim Khalili, Leader of Hezb-e-Wahadat-e Islami, Afghanistan under its Distinguished Lecture Series on January 13, 2021.
The Afghan delegation included senators and members of parliament namely; Mr. Khodadad Erfani, Ms. Nafisa Azimi, Mr. Ali Akbar Jamshidi, Mr. Qais Wakeli, Mr. Mohammad Rahim Hassanyar, Mr. Mohammad Alem Khalili and Mr. Madar Ali Karimi. Pakistan's Special Representative for Afghanistan, Ambassador Mohammad Sadiq was also in attendance. Members of the diplomatic corps in Islamabad, academics, civil society, and former and current diplomats were also present.
Ms. Amina Khan, Director Centre for Afghanistan, Middle East & Africa (CAMEA) gave welcome remarks.