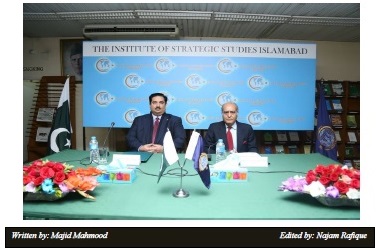 The Institute of Strategic Studies Islamabad (ISSI) organized a Public Talk on January 9, 2018 titled "Contours of Pakistan's Security Landscape". The guest speaker at the occasion was Pakistan's Minister of Defence Mr. Khurram Dastgir Khan.
Welcoming the speaker, Ambassador Khalid Mahmood, Chairman ISSI thanked honourable Federal Minister of Defense Engineer Khurram Dasrgir Khan for his presence and sharing views on the "Contours of Security Environment of Pakistan". Ambassador Mahmood said that this is a highly important subject as it has acquired particular significance in the wake of recent developments in the volatile South Asian region.
In his opening remarks, Ambassador Khalid was of the view that security for an individual or a state is not a product but a process. It is indeed a continuous process; complex challenges keep emerging. He recalled that ever since its inception, Pakistan has grappled with countless threats to its security environment. Pakistan has a hostile India perched on one side and an unstable Afghanistan on the other. Accordingly, security has been the top priority on our national agenda.