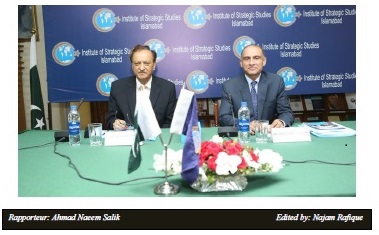 The Institute of Strategic Studies Islamabad (ISSI) organized a Public Talk titled, "Dynamics of Pakistan's Energy Security" on September 13, 2019. Dr. Gulfaraz Ahmed, former Federal Secretary, Ministry of Petroleum & Natural Resources was the guest speaker at the occasion.
Welcoming the speaker and guests, Director General ISSI, Ambassador Aizaz Ahmad Chaudhry, said the topic of the talk is important, especially for Pakistan, as we recently went through one of the worst energy crises in our history. The shortfall of energy became a major impediment to economic development. Even today, we experience shortfalls in the power sector and the natural gas sector, though at a much lower level than in the recent past. Power shortages cost billions of rupees to Pakistan's economy every year. Hence, the importance of energy security.
Given the importance of this subject, the ISSI had organized a public talk in April 2019 by an experienced former director of the World Bank, Mr. Ziad Aladad, who educated us on Resolving Pakistan's Energy Dilemma: Critical Starting Point and Role of CPEC. ISSI received a positive feedback of the event. The ISSI, therefore, is pleased to host a second talk on this important subject.