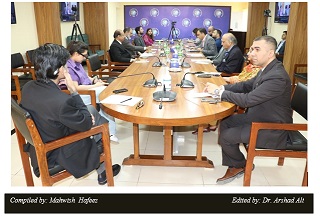 To commemorate the illegal and forceful occupation of the state of Jammu and Kashmir by India in 1947, the India Study Centre (ISC) at the Institute of Strategic Studies, Islamabad (ISSI) organised a roundtable titled "75 Years of Tyranny- The Case of Indian Occupied Kashmir" on October 27, 2022. Mr. Altaf Hussain Wani, Chairman, Kashmir Institute of International Relations, Mr. Faiz Naqshbandi, leader, All Parties Hurriyat Conference (APHC) and Dr. Sheikh Waleed Rasool, Director Institute of Dialogue, Development and Diplomatic Studies, Islamabad expressed their views on the occasion.
In his introductory remarks, Dr. Arshad Ali, Director of India Study Centre said that the Jammu and Kashmir issue is the core dispute between India and Pakistan. It is the longest pending dispute on the agenda of the United Nations Security Council (UNSC) since the Indian illegal occupation of parts of Jammu and Kashmir on 27th October, 1947. For the last 75 years, October 27 is commemorated as "Black Day" by Kashmiris across the world.
In his remarks, Director General ISSI Ambassador Aizaz Ahmad Chaudhry said that Kashmir is an important component of Pakistan's foreign and security policy.  The events that took place following the signing of the Stand Still agreement by Maharaja Hari Singh with both the dominions of Pakistan and India soon gave way to suspicions in the minds of the government and people of Pakistan which later proved to be true. It is also doubtful that whether the Instrument of Accession was signed before Indian troops landed on Kashmiri land to occupy it against the wishes of Kashmiri people or later.