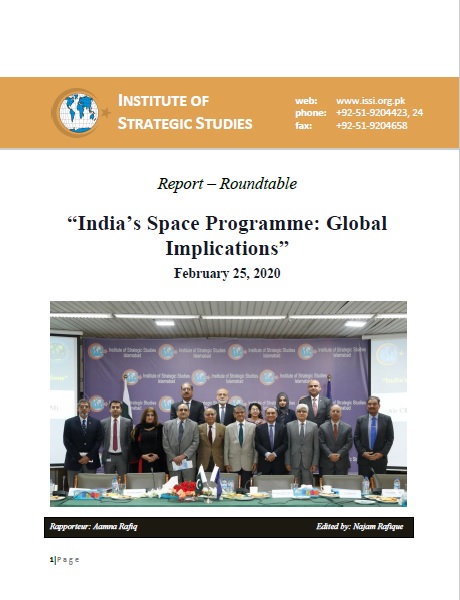 The Arms Control & Disarmament Centre (ACDC) at the Institute of Strategic Studies Islamabad (ISSI) organised its first roundtable discussion titled, India's Space Programme: Global Implications on February 25, 2020. Air Chief Marshal (Retd.) Kaleem Saadat, NI (M) was the keynote speaker at the occasion. The agenda of the roundtable was to discuss India's dual-use space programme, its modernisation and impact on the global strategic landscape.
Ambassador Aizaz Ahmad Chaudhry, Director General ISSI, welcomed the experts from official departments, think tanks, and academia at the roundtable.
Introducing the subject, Malik Qasim Mustafa, Director ACDC-ISSI, highlighted the significance of the topic under discussion. He said that the new or the second space age is dominated by the dangerous and more fearful military competition. In the contemporary strategic environment, major powers are giving up on the existing arms control and disarmament regimes and have initiated new nuclear and conventional arms races, especially in outer space. They are investing huge resources to develop and modernise their space programmes with dual-use capabilities which will lead to the militarisation of outer space. It has been noted that the US, in its 2021 budget request, included US$15.4 billion for its recently established Space Force. Similarly, India with its already developed dual-use space programme has demonstrated military capability through an anti-satellite test in March 2019. According to the United Nations Office for Outer Space Affairs (UNOOSA) estimates, out of India's 56 operational satellites, around 15-19 satellites are dedicated for military purposes. Furthermore, in recent years, its space object launch activity has also increased. During 2018-19, it launched 20 objects in space.