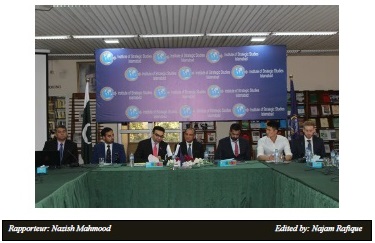 China-Pakistan Study Centre (CPSC) at the Institute of Strategic Studies Islamabad (ISSI) hosted a briefing for 40-member group of graduate students and alumni from Harvard Kennedy School of Government on March 20, 2019. The group members comprised students representing 24 countries, including the United States, China, Germany, Turkey, Egypt, Lebanon, United Arab Emirates, Brazil, Columbia and Singapore.
Dr. Talat Shabbir, Director China-Pakistan Study Centre welcomed the guests. At the outset, Ms. Uroosa Khan, Associate Editor CPSC, gave a brief introduction of ISSI and CPSC.
Mr. Muhammad Ali, former Chairman Security and Exchange Commission briefly introduced the members of the delegation and their program in Pakistan. Mr. Ali thanked the Institute for accommodating them amid its hectic schedule, and said that the group was interested in understanding the China-Pakistan Economic Corridor (CPEC) and its role in evolving regional dynamics.
Director China-Pakistan Study Centre, Dr. Talat Shabbir gave a presentation on the regional imperatives of CPEC highlighting the vision, details, and future potentials of the corridor. He elaborated that the Chinese vision involves promoting economic and social development in Western China and accelerating development of Belt and Road Initiative (BRI). Meanwhile, Pakistan wants to fully harness the demographic and natural endowment of the country by enhancing its industrial capacity through creation of new industrial clusters, while balancing the regional socioeconomic development, enhancing people's well-being, and promoting domestic peace and stability. He apprised the group about the BRI and said it has strings of projects connecting the Baltic Sea with Pacific Ocean via roads, rails and sea lanes for free trade.