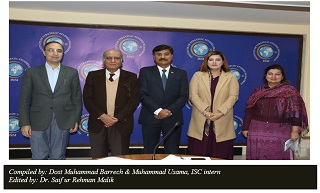 India Study Centre (ISC) at the Institute of Strategic Studies Islamabad (ISSI) organized a Webinar on "Commemorating Solidarity with Kashmiris" on February 4, 2022.
In his introductory remarks, Dr. Saif ur Rehman Malik, Director ISC welcomed the participants and began by stating that the observance of Kashmir Solidarity Day by Pakistan on the 5th of February illustrates Pakistan's undaunted resolve regarding the resolution of the Kashmir dispute. He added that undoubtedly, Kashmir is the jugular vein of Pakistan and the geographical pivot of history. Dr. Malik paid tribute to the heroism and dedication of the Kashmiri people whose third generation is keeping the resistance alive.
In his welcome remarks, Ambassador Aizaz Ahmad Chaudhary, Director General, ISSI said that Pakistan has been observing Kashmir Solidarity Day since 1990 when Kashmiris rose against the illegal occupation of their land by India. Pakistan is linked to Jammu and Kashmir geographically, ethnically, and religiously. He said that India is looking for a military solution to the issue of Kashmir as it has not learned a lesson from the US experience in Afghanistan. He further articulated that Pakistan has been observing the Kashmir Solidarity Day for the last 37 years and it has been consistently sending a message to the Indian leaders that Pakistan will continue to stand with its Kashmiri brothers and will always oppose the rule of oppression by India.