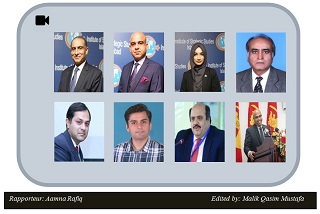 The Arms Control and Disarmament Centre (ACDC) at the Institute of Strategic Studies Islamabad (ISSI) organised a webinar titled, "COVID19: Use of Technology as a New Normal" on June 9, 2020. Mr Khawaja Mohammad Ali, Chief Information & Cyber Security Officer at Agriculture Development Bank of Pakistan (ADBP), Islamabad, was the keynote speaker at the occasion. The other participants of the webinar were Mr Usama Nizamani, Consultant, Islamabad Policy Research Institute (IPRI); Dr Zafar Nawaz Jaspal, Professor at the School of Politics and International Relations at the Quaid-i-Azam University (QAU), Islamabad and Dr Harinda Vidanage, Director Bandaranaike Centre for International Studies (BCIS) Colombo, Sri Lanka. Malik Qasim Mustafa, Director ACDC, made introductory remarks and moderated the webinar. Ms Aamna Rafiq, Research Associate ACDC-ISSI gave a briefing on the subject. Welcome remarks were delivered by Ambassador Aizaz Ahmad Chaudhry, Director General ISSI, and Ambassador Khalid Mahmood, Chairman BoG ISSI, made concluding remarks.
Introductory Remarks by Malik Qasim Mustafa, Director ACDC-ISSI
In his introductory remarks, Malik Qasim Mustafa, Director ACDC-ISSI, described the ways in which COVID19 has transformed the social, political, economic and security aspects of communities across the globe. He said that states are responding through various means and methods, which also include growing reliance on modern digital technologies for continuity of education, businesses. However, the increasing reliance on technology has put enormous pressure on global technological infrastructure. Technology companies are already innovating for this change. He warned that this shift from physical to the virtual world will not only change the future of emerging technologies but also exposes communities of several risks, challenges and threats.