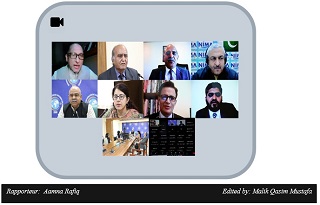 The Arms Control and Disarmament Centre (ACDC) at the Institute of Strategic Studies Islamabad (ISSI) hosted a webinar on "Indian Naval Modernisation and its Impact on Strategic Stability in South Asia" on September 14, 2021. The webinar was attended by various distinguished national and international experts and moderated by Malik Qasim Mustafa, Director ACDC-ISSI.
Introduction to Webinar by Malik Qasim Mustafa Director ACDC-ISSI
In his introductory remarks, Malik Qasim Mustafa, Director ACDC-ISSI, said that India is ravenous to rise to a great power status and desires to achieve its hegemonic ambitions through military means. It is constantly maintaining its position among the top five biggest military spenders in the world. In 2020 with its US$72.9 billion military expenditure and a total global share of 3.7 per cent, India was ranked number third. India is allocating huge resources on its ongoing military modernisation drive. It has allocated around US$18.48 billion for the purchase of weapons in its 2021-22 defence budget. Out of this, the Indian Navy will receive around US$4.55 billion for weapon purchases this year.
Currently, the Indian Navy operates around 150 ships and submarines. It is planning to have around a 200-ship fleet by 2027. Currently, India operates one nuclear-powered attack submarine (SSN), one ballistic missiles submarine (SSBN) and fifteen diesel-electric attack submarines. The second SSBN known as "INS Arighat" is expected to join the service this year. The Indian Navy has also begun the development of the remaining two Arihant-class submarines, the S-3 and S-4. India also operates one aircraft carrier "INS Vikramaditya" and its indigenous aircraft carrier, known as, "INS Vikrant," is expected to be commissioned next year. More recently, in June 2021, India has cleared a US$7 billion project to build six new generation-stealth submarines and there are many other projects, which India is pursuing with.