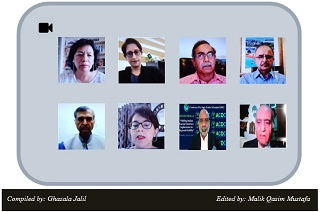 The Institute of Strategic Studies, Islamabad's (ISSI) Arms Control and Disarmament Centre (ACDC) hosted a webinar on "Shifting Indian Nuclear Doctrine: Implications for Regional Stability" on July 2, 2020. Dr. Ghulam Mujaddid, Dean Faculty of DASSS, Air University, spoke on "No First Use: Continuity or Change in Indian Nuclear Doctrine," Air Vice Marshal Faaiz Amir (Retd), former Vice Chancellor, Air University, made remarks on "Pre-emption and Indian Nuclear Doctrine: Implications for Pakistan," while Dr Rabia Akhtar, Director CSSPR, made remarks on "India Nuclear Weapons Modernisation: Implications for Deterrence Stability," and Air Marshal (Retd) M. Ashfaque Arain, Director CASS, talked about "Shift in Indian Nuclear Doctrine and Deterrence Stability: Option for Pakistan." The keynote address was made by Professor Han Hua, Director, Centre for Arms Control and Disarmament, Peking University, China.
Welcome Remarks by Malik Qasim Mustafa, Director, ACDC, ISSI
Malik Qasim Mustafa, Director ACDC, in his welcome remarks said that the use of nuclear weapons will bring catastrophic consequences, therefore, keeping in mind this inherent danger associated with the use of nuclear weapons, states have adopted different weapons use policies, including the defensive use or the No First Use (NFU) policy – China is the first country who adopted the NFU policy in 1964 and it is still following it. However, in the South Asian context, in 1999, India adopted the NFU policy, but its vagueness and ambiguity continue. Since then, the Indian officials and nuclear experts have been debating to review India's Credible Minimum Deterrence (CMD) doctrine and criticising the effectiveness of its NFU policy with an attitude that "Why India should bind itself to a No First Use policy," (Manohar Parriker) and "What happens in future depends on the circumstances," (Rajnath Singh).