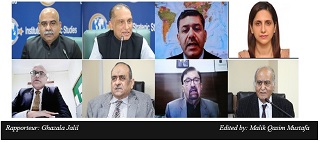 The Arms Control and Disarmament Centre (ACDC) at the Institute of Strategic Studies Islamabad (ISSI) held a webinar to mark the twenty-third anniversary of Youm-e-Takbeer on May 28, 2021. The eminent speakers included Brig. Zahir Kazmi, Director General, ACDA-SPD; Mr Muhammad Kamran Akhtar, Director General, ACDIS, MOFA; Dr Rizwana Abbasi, Associate Professor, NUML; Dr Pervaiz Butt, former Chairman PAEC and Air Cdre. (Retd.) Khalid Banuri, Advisor SPD.
Introductory Remarks by Mr Malik Qasim Mustafa, Director ACDC at the ISSI
Malik Qasim Mustafa highlighted that since May 28, 1998, the Pakistani nation, every year, proudly commemorates "Youm-e-Takbeer," as a day when Pakistan restored the balance of power in the South Asian region by conducting nuclear tests. After acquiring nuclear weapons capability, Pakistan is ensuring the security of its nation with utmost restraints and responsibility. However, over time, as the traditional notion of security is changing, Pakistan also realises that to ensure comprehensive human security, it must ensure economic security, energy security, food security, and environmental security for its masses. Pakistan is making use of peaceful nuclear technology in almost all sectors including energy, agriculture, industry, medical, environment and other related areas to bring prosperity and growth. However, to fully benefit from this technology requires resources and international cooperation in the file of peaceful nuclear technology.