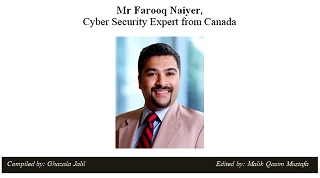 The Arms Control and Disarmament Centre (ACDC) at the Institute of Strategic Studies, Islamabad (ISSI) organised a webtalk on "Changing Global Dynamics of Cyber Threats and their Impact on National Security," held on September 11, The webtalk was delivered by Mr Farooq Naiyer, a cybersecurity expert from Canada. Mr Malik Qasim Mustafa, Director Arms Control and Disarmament Centre (ACDC), moderated the event. Ambassador Aizaz Ahmad Chaudhry, Director General ISSI, opened the event with his welcome remarks. Mr Khawaja Mohammad Ali, Chief Information & Cyber Security Officer, Agriculture Development Bank of Pakistan (ADBP), Islamabad, was the first discussant and Ms Aamna Rafiq, Research Associate ACDC, was the second discussant. The closing remarks were delivered by Ambassador Khalid Mahmood, Chairman Board of Governors, ISSI.
Introductory Remarks by Malik Qasim Mustafa, Director ACDC-ISSI
In his introductory remarks, Malik Qasim Mustafa said that since the last decade the cyber threats have started to emerge as a significant risk to national security and with time, the technological advancements in cyberspace and its growing integration with the political, social, cultural, economic and military domains, has made states vulnerable against cyber threats. Especially, after the COVID-19 pandemic states are greatly exposed to existing and emerging waves of cyber threats.