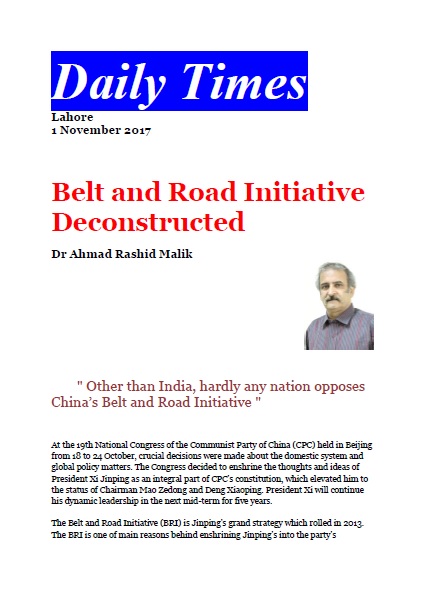 " Other than India, hardly any nation opposes China's Belt and Road Initiative " 
At the 19th National Congress of the Communist Party of China (CPC) held in Beijing from 18 to 24 October, crucial decisions were made about the domestic system and global policy matters. The Congress decided to enshrine the thoughts and ideas of President Xi Jinping as an integral part of CPC's constitution, which elevated him to the status of Chairman Mao Zedong and Deng Xiaoping. President Xi will continue his dynamic leadership in the next mid-term for five years.
The Belt and Road Initiative (BRI) is Jinping's grand strategy which rolled in 2013. The BRI is one of main reasons behind enshrining Jinping's into the party's constitution on which he has been banking over the past four years in his dynamic foreign policy preferences. His initiatives have now become part of the CPC's constitution which means China will continue to pursue the BRI in the long run even when Jinping would no longer be in power.