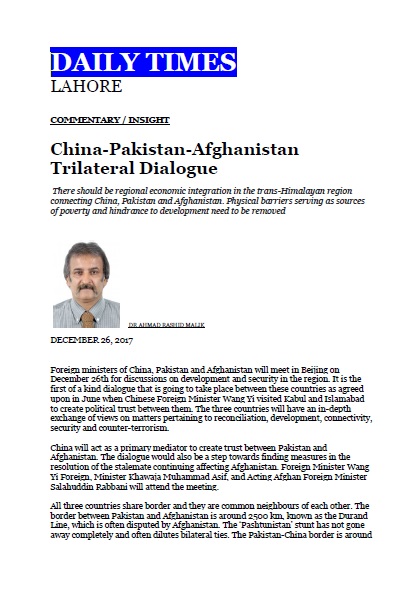 There should be regional economic integration in the trans-Himalayan region connecting China, Pakistan and Afghanistan. Physical barriers serving as sources of poverty and hindrance to development need to be removed
Foreign ministers of China, Pakistan and Afghanistan will meet in Beijing on December 26th for discussions on development and security in the region. It is the first of a kind dialogue that is going to take place between these countries as agreed upon in June when Chinese Foreign Minister Wang Yi visited Kabul and Islamabad to create political trust between them. The three countries will have an in-depth exchange of views on matters pertaining to reconciliation, development, connectivity, security and counter-terrorism.
China will act as a primary mediator to create trust between Pakistan and Afghanistan. The dialogue would also be a step towards finding measures in the resolution of the stalemate continuing affecting Afghanistan. Foreign Minister Wang Yi Foreign, Minister Khawaja Muhammad Asif, and Acting Afghan Foreign Minister Salahuddin Rabbani will attend the meeting.