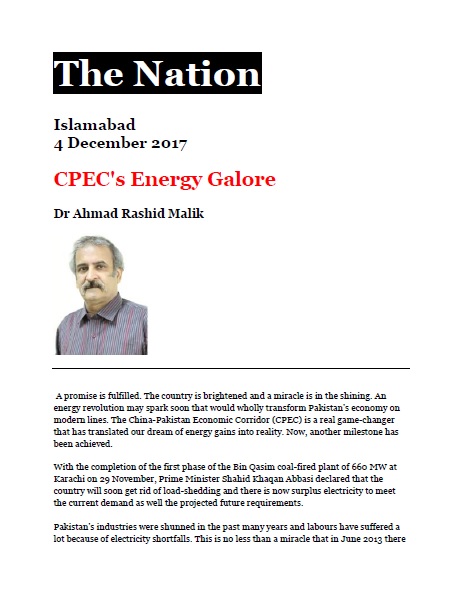 A promise is fulfilled. The country is brightened and a miracle is in the shining. An energy revolution may spark soon that would wholly transform Pakistan's economy on modern lines. The China-Pakistan Economic Corridor (CPEC) is a real game-changer that has translated our dream of energy gains into reality. Now, another milestone has been achieved.
With the completion of the first phase of the Bin Qasim coal-fired plant of 660 MW at Karachi on 29 November, Prime Minister Shahid Khaqan Abbasi declared that the country will soon get rid of load-shedding and there is now surplus electricity to meet the current demand as well the projected future requirements.
Pakistan's industries were shunned in the past many years and labours have suffered a lot because of electricity shortfalls. This is no less than a miracle that in June 2013 there used to be 18 hours load-shedding and now by November 2017 surplus electricity is available in Pakistan. It is high time to set up new industrial sectors, free economic zones, special economic zones, and small to medium industry all over the country for a trickle-down effect to the masses.