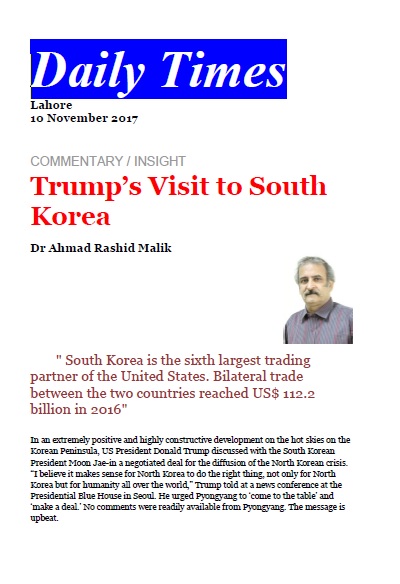 "South Korea is the sixth largest trading partner of the United States. Bilateral trade between the two countries reached US$ 112.2 billion in 2016"
In an extremely positive and highly constructive development on the hot skies on the Korean Peninsula, US President Donald Trump discussed with the South Korean President Moon Jae-in a negotiated deal for the diffusion of the North Korean crisis. "I believe it makes sense for North Korea to do the right thing, not only for North Korea but for humanity all over the world," Trump told at a news conference at the Presidential Blue House in Seoul. He urged Pyongyang to 'come to the table' and 'make a deal.' No comments were readily available from Pyongyang. The message is upbeat.
Trump visited Seoul on 7-8 November as part of his 12-day long Asian tour. Seoul is a vital ally of the United States. Pyongyang is completely muted over Trump's visit to Seoul. The whole focus of Trump's Asian tour was on the settlement of the North Korean issue. The US-South Korea alliance has protected the security of the latter since 1950. With all its military preparations, North Korea remains unable to invade South Korea but threats keep continuing.