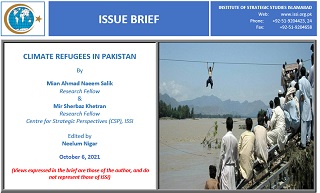 In 1990, the Intergovernmental Panel on Climate Change (IPCC) noted that the greatest single impact of climate change could be on human migration, with millions of people displaced by shoreline erosion, coastal flooding, and agricultural disruption. Since then, various analysts have tried to put numbers on future flows of climate migrants sometimes called climate refugees, the most widely repeated prediction being 200 million by 2050.[1]
The 6th IPCC report, released in 2021 has also issued an ominous warning for the global community, its forecasts for South Asia are particularly troubling. Overall, South Asian countries are predicted to see increasingly hot weather, longer monsoon seasons, alongside severe droughts over the next 20 years, as global warming increases by around 1.5 degrees Celsius.[2]
The results from Groundswell Part 2: Acting on Internal Climate Migration Report published by the World Bank in 2021, across the world show that without early and concerted climate and development action, as many as 216 million people could move within their own countries due to slow-onset climate change impacts by 2050. They will migrate from areas with lower water availability and crop productivity and from areas affected by sea-level rise and storm surges. Hotspots of internal climate migration could emerge as early as 2030 and continue to spread and intensify by 2050.[3]