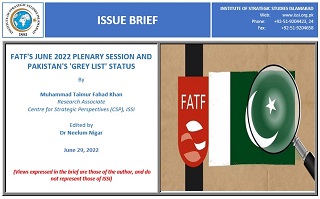 On June 17, the second Financial Action Task Force (FATF) Plenary session for the year 2022 concluded in Berlin, Germany. During its latest Plenary session, the FATF reviewed Pakistan's progress on the two Action Plans (2018 and 2021) and acknowledged their substantial and successful completion by the country.[1]
The Plenary also authorized an on-site visit to Pakistan which is expected to take place in September, before the next and final FATF Plenary session for the year 2022 in October.
The on-site visit by the FATF team to Pakistan is of great significance because this inspection is the final step for Pakistan to officially exit the FATF's grey list. The satisfaction that has been shown during the recent Plenary session does not guarantee Pakistan's white-listing, a step which depends on the green light by the FATF's on-site inspection team.