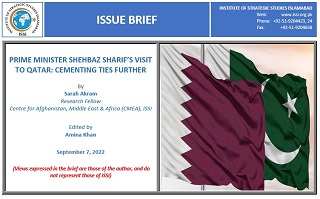 Rooted in culture, religion and geographical proximity, Pakistan has traditionally enjoyed very good relations with Qatar as has been the case with all Gulf Cooperation Council (GCC) countries. Pakistan's relationship with Qatar is largely built on political, economic and military ties.  Since the establishment of ties in 1971, the bilateral relationship has grown to deeper engagement in many areas.
Pakistan and Qatar complement each other strategically and economically and share common goals for global and regional peace and security. For Pakistan, a sound economic relationship can reap many benefits as the country struggles with a weak economy, still dealing with the after effects of the pandemic and a balance of payments crisis. Investment from Qatar can have a positive impact on the economy of Pakistan and help it steer out of the present crisis. The orientation on bilateral, regional and international issues make it easy for Qatar and Pakistan to cooperate in various fields and this was evident by the recent two day visit of  Prime Minister Sharif to Qatar from August 23-24, 2022. The visit was aimed at further strengthening the already strong bonds between the two states and seeking new opportunities for Pakistan's various sectors like infrastructure development, food security, renewable energy, tourism, hospitality and industrial development.[1]
According to Qatar's Amiri Diwan, the Qatar Investment Authority (QIA) has announced that it aims to spend $3bn in various commercial and investment sectors in Pakistan. It was also stated that the two countries aspired to enhance economic partnership by raising trade exchange and promoting investments through the Qatar Investment Authority respectively.Prime Minister Sharif also urged the business community in Qatar to look into opportunities provided by the China Pakistan Economic Corridor (CPEC), which can be a source for the promotion of regional connectivity. The Pakistani premier also called for the up gradation of bilateral relations between the two countries, by making economic cooperation the pivot of bilateral ties. This is a very important aspect in an age of geo-economics, when the world is rapidly transforming.