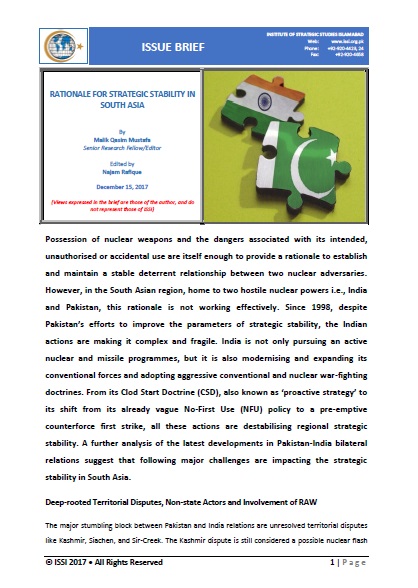 Possession of nuclear weapons and the dangers associated with its intended, unauthorised or accidental use are itself enough to provide a rationale to establish and maintain a stable deterrent relationship between two nuclear adversaries. However, in the South Asian region, home to two hostile nuclear powers i.e., India and Pakistan, this rationale is not working effectively. Since 1998, despite Pakistan's efforts to improve the parameters of strategic stability, the Indian actions are making it complex and fragile. India is not only pursuing an active nuclear and missile programmes, but it is also modernising and expanding its conventional forces and adopting aggressive conventional and nuclear war-fighting doctrines. From its Clod Start Doctrine (CSD), also known as 'proactive strategy' to its shift from its already vague No-First Use (NFU) policy to a pre-emptive counterforce first strike, all these actions are destabilising regional strategic stability. A further analysis of the latest developments in Pakistan-India bilateral relations suggest that following major challenges are impacting the strategic stability in South Asia.
Deep-rooted Territorial Disputes, Non-state Actors and Involvement of RAW
The major stumbling block between Pakistan and India relations are unresolved territorial disputes like Kashmir, Siachen, and Sir-Creek. The Kashmir dispute is still considered a possible nuclear flash point between both the nuclear neighbours. In addition to this, the Indo-Pak relations are further deteriorated by the role of non-state actors and violent extremist groups across the borders. This has resulted in increased border tensions, and India has repeatedly violated the Line of Control (LOC) and Working Boundary. According to Pakistan Ministry of Foreign Affairs "in 2017 to date, the Indian occupation forces have carried out more than 900 ceasefire violations along the LoC and the Working Boundary, as compared to 382 ceasefire violations in 2016."[1] Furthermore, the growing involvement of the Indian intelligence agency Research and Analysis Wing (RAW) to internally destabilise Pakistan, is also threatening prospects of peace between India and Pakistan. Over these issues, India has been threatening Pakistan and there are fears that any misadventure by India could escalate into a nuclear exchange.