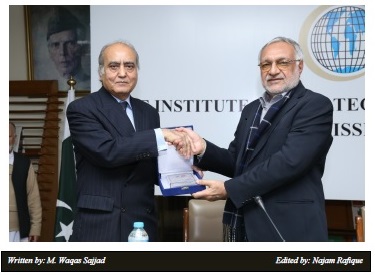 The China-Pakistan Study Centre (CPSC) at the Institute of Strategic Studies Islamabad (ISSI) organized a public talk on December 14, 2017 titled "Progress of the CPEC Projects in Sindh." The speaker at the occasion was the Honourable Minister for Planning and Development, Government of Sindh, Mir Hazar Khan Bijrani.
After welcoming the speaker and the guests, Dr. Ahmad Rashid Malik, Director of the China-Pakistan Study Centre thanked the speaker for initiating the Premier Public Talks of the Centre, on a topic of widespread interest in the country.
In his introductory remarks, Ambassador Khalid Mahmood, Chairman ISSI, also informed the audience about the China-Pakistan Study Centre at the ISSI, which had been inaugurated on June 16, 2017 by Mr. Sartaj Aziz, the former advisor to the Prime Minister on Foreign Affairs. Apart from the other activities of the Centre, he highlighted this current event as the first Public Talk through its platform.
Ambassador Mahmood reflected on Pakistan's "model relationship" with China, which has been expanding in multiple directions, including now with new milestones in the economic domain. This is a time-tested relationship, he noted, that is important for peace and stability in the South Asian region. Increasingly, it is also relevant for several other countries as the China-Pakistan Economic Corridor (CPEC) under China's Belt and Road Initiative (BRI) seeks to enhance global connectivity and mutually beneficial opportunities by reducing poverty and enhancing contact, not just for Pakistan and China, but for other countries as well. There have been a number of projects completed under CPEC, while work on others has been proceeding well, including industrialization in special economic zones, and progress at the Gwadar Port.